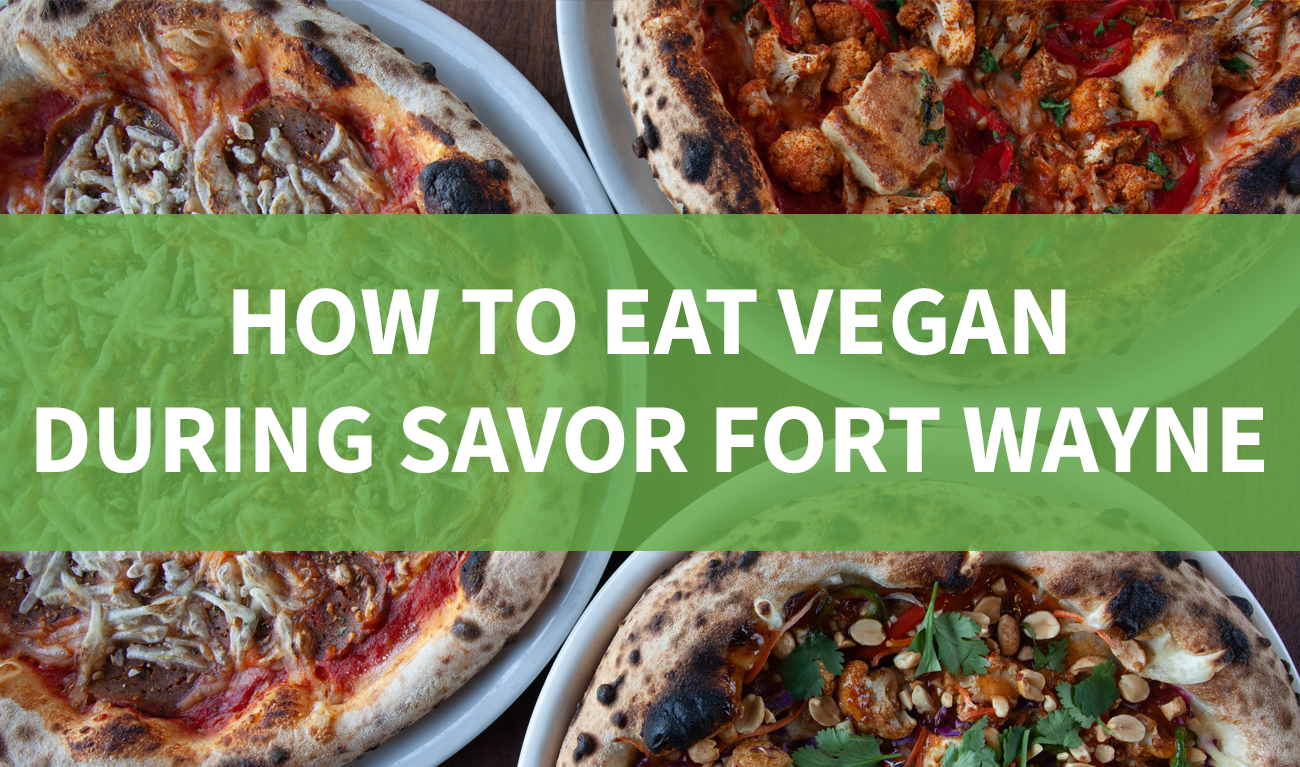 How to Eat Vegan During Savor Fort Wayne
Savor Fort Wayne's winter edition kicks off January 12 – 23, 2022. While nearly 70 restaurants are participating, finding those with vegan options takes a little digging. Luckily, we did the work for you and found 6 restaurants offering vegan options during Savor Fort Wayne. Take a look at the list and get ready to dig into some delicious vegan food at these Fort Wayne restaurants. And, don't forget to always ask for the vegan option at any of these spots.
Vegan Options During Savor Fort Wayne
Hotel Tango – Roko's Kitchen

10212 Chestnut Plaza Dr • 317-653-1806 ext. 5
If you had Roko's Kitchen during Fort Wayne Vegan Restaurant Week, you won't want to miss what they'll be serving up during Savor Fort Wayne at Hotel Tango.
3-Course Prix-Fixe $30 per Person
Available: Thursday-Saturday 5pm-9pm & Sunday 11am-8pm)
*Reservations are required.*
Appetizer (choose one):
Spinach and Artichoke Dip with Chips (V GF)
Chickpea Dip with Assorted Fresh Veggies (V GF)
 Main (choose one):
"I Can't Believe It's Not Meat" Loaf served with Garlicky Smashed Potatoes and Roasted Veggies (V GF)
Dessert (choose one):
Flourless German Chocolate Cake (V GF)
Coconut Strawberry Panna Cotta (V GF)
They do ask that you call at least 24 hours ahead for reservations or carryout orders as everything is prepared fresh per number of orders.
Three Fires Pizza

 5215 Illinois Road, Suite 101 • (260) 416-0005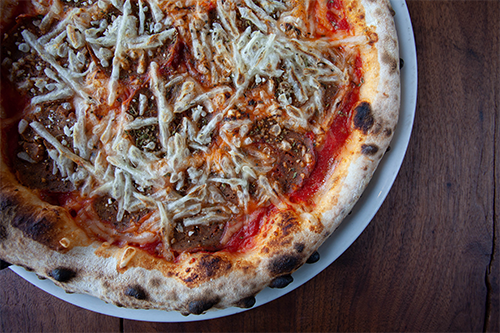 Three Fires Pizza always has delicious vegan pizza options including during Savor.
For $20 per person you can choose:
SALAD: CHOOSE ANY ½ SALAD
MISTA GF  VGa (vegan option available)
greens, shredded parmesan, carrot, cucumber, fennel, red onion, grape tomato, pine nuts, rice wine vinaigrette
PIZZA: CHOOSE ANY PIZZA
CHEESE  VGa
tomato sauce, mozzarella
MARGHERITA  VGa
tomato sauce, mozzarella, olive oil, basil, fleur de sel
BIANCA  VGa
white sauce, mozzarella, green olive, basil, garlic, chili flake
FUNGHI  VGa
tomato sauce, fontina, fire-roasted mushrooms, thyme, garlic oil
VEGAN PEPPERONI
pizza sauce, vegan mozzarella, vegan pepperoni, oregano
VEGAN 800°
tomato sauce, vegan mozzarella, vegan ricotta, vegan hot sausage (cauliflower), roasted red pepper, parsley, chili oil, chili flake
VEGAN THAI
Thai peanut sauce, vegan mozzarella, Thai peanut cauliflower, red cabbage, red bell pepper, julienne carrot, jalapeño,
toasted peanut, cilantro, lemon juice, sweet chili sauce
DESSERT: CHOOSE ONE
Skip the dessert as a vegan option isn't available and instead, head to the next one on our list of vegan options during Savor Fort Wayne, Oh Five Scoop Shop, for some vegan gelato!
Oh Five Scoop Shop

1937 E State Blvd  • (260) 494-6069 • Wed-Sun, 2-8 pm
Oh Five Scoop Shop will be scooping up some yummy vegan gelato during Savor. They'll have 4 different vegan flavors this week to choose from!
Option 1
Two scoops gelato Nach-oh and two hot chocolates coffees for $12
Be sure to ask for vegan sauces & toppings (vegan chocolate sauce, Oreos, nuts, maybe more?). The waffle chips that come with this are NOT vegan, but you can ask for crushed waffle cone instead!
Option 3
Fiver gelato flight for $13 (a 5-scoop flight)
Junk Ditch Brewing Company

1825 W Main Street • (260) 203-4045 • Available after 4:30 pm
Junk Ditch never disappoints with their vegan options and Savor week will be no exception! They'll be brewing up a 3-course meal for $30/person.
Choose one Starter, Main, and Dessert.
Starter
Fried Brussel Sprouts(v,gf)
Salad (ask if a vegan option is available)
Soup (ask if a vegan option is available)
Main
JDBC Burger(v,gf)
Vegan Risotto
Dessert:
Sorbet (Typically vegan, but ask first!)
Full Circle Grill & BBQ at 2 Toms Brewing Company

3676 Wells Street • (260) 442-4376
Full Circle Grill & BBQ is always great about taking care of our vegan community and has some delicious vegan options ready for you!
Choose one appetizer, entree, side, and dessert for only $22.
CHOOSE ONE APPETIZER
Guacamole & Chips
Celery & Carrots
Spring Rolls w/carrot & ginger sauce (V)
Cuban Black Bean Dip (V)
CHOOSE ONE ENTREE
Sweet BBQ Pulled Jackfruit Sandwich w/1side (V)
Spicy Jackfruit Sushi w/1 side (V)
CHOOSE ONE SIDE
Coleslaw (V)
Pineapple Baked Beans (V)
Spicy Cauliflower Rice (V)
Hawaiian Roll (V)
Hawaiian Coleslaw (V)
CHOOSE ONE DESSERT
2 Dark Chocolate Truffles (V)
Tahini Chocolate Banana Soft Serve Ice Cream (V)
Alto Grado Pizza

111 W Columbia St • (260) 498-2491
If you're like us, you can't get enough of vegan pizza! In addition to Three Fires, Alto Grado will also be serving up some vegan 'za during Savor Fort Wayne! Choose their Happy Vegan, Fungi Pizza, or build your own with vegan cheese and toppings!
Option 1: 2 for $24
1 Order of Parmesan Stix (ask if you can sub a vegan option)
1 Pizza (ask for vegan cheese & toppings)
1 Dessert Pizza ( their fruit pizza is vegan including the drizzle! Veganize the Cinnamon Sticks by asking them to brush them with olive oil instead of butter)
Eating Vegan in Fort Wayne
Savor Fort Wayne only lasts 11 days, but Fort Wayne has many great options year-round! Our Fort Wayne Vegan Dining Guide makes it easy to find vegan options any and every day of the week!