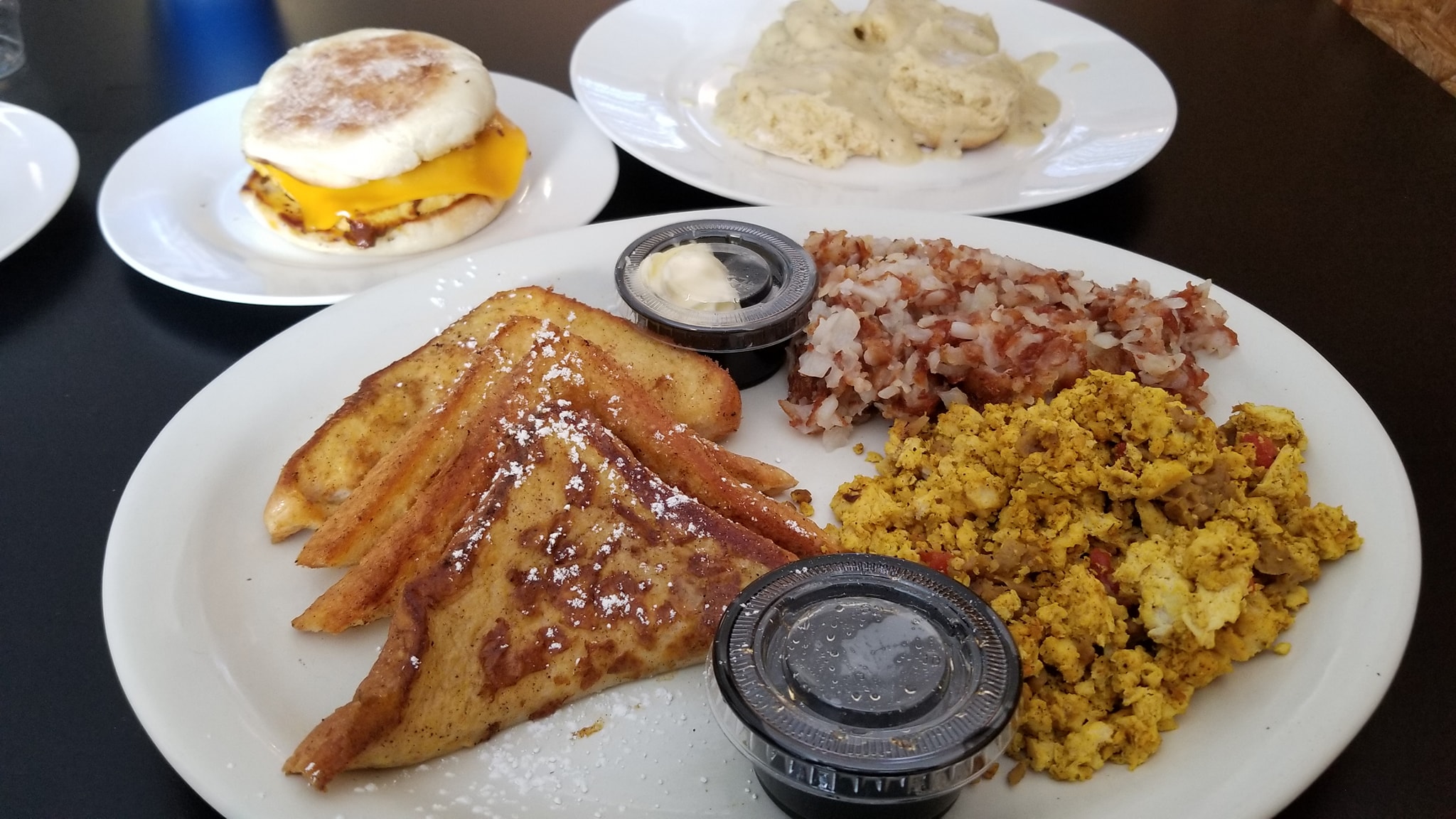 Vegan Breakfast in Fort Wayne
Rise 'n' shine my veggies! Whether you're rushing to work work and need to grab a quick breakfast to jumpstart your day or you're heading out for a weekend brunch, these restaurants are serving up some delicious vegan breakfast in Fort Wayne.
Savery Vegan Grill
Breakfast hours: Sundays only from 10am-2pm.
Sundays at Savery Vegan Grill are a favorite for Fort Wayne vegans. That's when they serve up some classic vegan breakfast dishes like pancakes, french toast, biscuits & gravy, sausage and egg breakfast sandwiches, chick'n 'n' waffles, and so much more! Their Sunday breakfasts options prove that you can still eat a traditional breakfast without the animals!
Tazza Cafe
Breakfast hours: Monday – Friday 8am-4pm, Saturday & Sunday 8am-3pm.
Tazza Cafe has proven to be a very vegan-friendly spot in Fort Wayne. Stop in any day to pick up some vegan breakfast options from The Sassy Vegan. Their vegan options include Impossible biscuits & gravy, rosemary hash and tofu scramble, quiche, a pepperoni bagel sammie, and an assortment of baked goods. Pair it with a coffee with plant milk to really kickstart your day!
Juice Jar
Breakfast hours: TEMPORARILY CLOSED DUE TO SUPPLY CHAIN ISSUES
If you're looking for a healthier way to start your day, head over to the Juice Jar. In addition to their smoothies and fresh-pressed juices, they also serve up 3 different avocado toast options, acai bowls, and a pitaya acai split that will leave you feeling great all day.
Pembroke Bakery & Cafe
Breakfast Hours: All day, every day they're open!
Heading downtown? Stop by and grab some vegan breakfast at Pembroke Bakery & Cafe. They have a changing selection of vegan pastries including cinnamon rolls and muffins, bagels with vegan cream cheese, avocado toast, and spinach pie. On Saturdays, they offer tofu scramble while it lasts. They also have soy, almond, oat, and rice milk for coffees and hot cocoa at no extra charge.
Kanela Cafe
Breakfast Hours: All day, every day they're open!
Kanela Cafe in downtown Fort Wayne by The Landing is a great spot for coffees, smoothies, and a few food options including their new vegan egg and cheese breakfast bagel. They also offer a plant-based protein powder and plant milk for coffees and smoothies.
View this post on Instagram
Jack's Donuts
Breakfast Hours: Tuesday, Thursday, Saturday by the donut or by the dozen when you call ahead any day
Did someone say donuts? Yes, and Jack's Donuts has them! Stop by Tuesday, Thursday, or Saturday to grab a cinnamon or glazed cake donut. Or, call ahead to order them by the dozen any day of the week!
Junk Ditch Brewing Company
Breakfast Hours: Saturdays
Want something a little different for breakfast? Head over to Junk Ditch. Their menu changes, so just ask about their vegan brunch option. Their menu is marked (v) for their vegetarian options, but they can be modified to be made vegan. Current vegan offerings include a vegetable hash, chilaquiles, and a brunch burger.
Divine Encounter Cafe
Want a cafe experience? Check out Divine Encounter Cafe. They offer a tofu scramble with veggies served with a side of hash browns. We haven't checked yet to verify if they're vegan, but their menu also mentions overnight oats with superfoods, fruits, and nuts. We'll let you know once we verify it with them. Or let us know if you've had them!
Spyros Pancake House
While they don't have a lot of vegan options, Spyros Pancake House does offer oatmeal made with water instead of milk, a large fruit platter (sub applesauce instead of cottage cheese), and hashbrowns or fried potatoes cooked with vegetable oil.
Bigby Coffee
Breakfast Hours: All day, every day
Bigby Coffee just announced that their new vegan sausage bragel is now available in Fort Wayne. Swing by either of their locations to grab a bragel to go!
Rise 'n' Shine with Vegan Breakfast in Fort Wayne
These 10 spots will help you start the day off right! And, if you're not a morning person, don't worry. There are more than a few on the list that offer all-day options!  Who has your favorite vegan breakfast in Fort Wayne? Let us know in the comments!