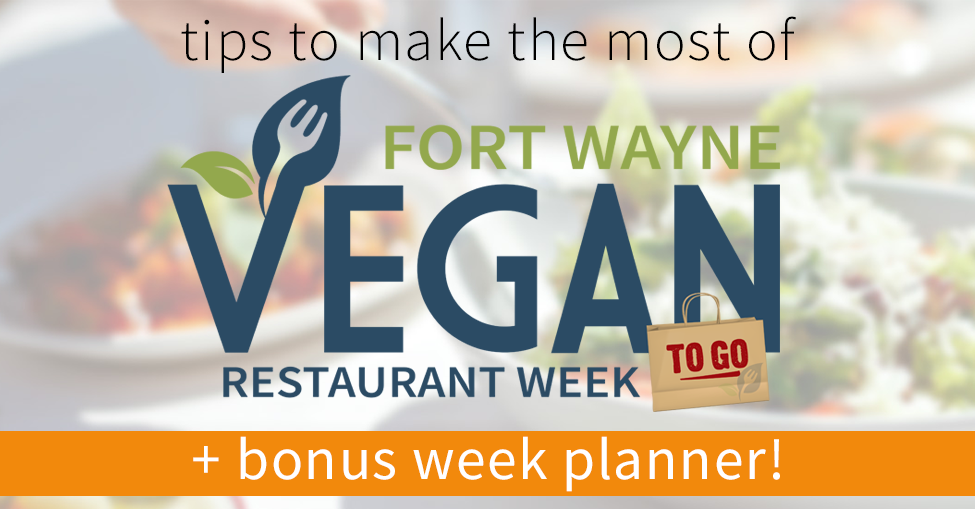 How to Make the Most of Fort Wayne Vegan Restaurant Week (+ Week Planner Template)
It's here! The week Fort Wayne vegans & vegetarians have been waiting for. The 2nd annual Fort Wayne Vegan Restaurant Week To Go runs November 2-8 in celebration of World Vegan Month! One of the best weeks in the city for local (and nearby) vegans, vegetarians, and those who want to try out some amazing meat-free meals.
Fort Wayne restaurants always have many great offerings for vegans & vegetarians, which makes it no surprise that we ranked #8 on the list of top cities for vegans & vegetarians, but Fort Wayne Vegan Restaurant Week brings out even more deals and meals for meatless diners.
With 12 participating restaurants showcasing some great vegan options,  you may be wondering how you're going to fit it all in in just a week. That's why we're sharing these tips on how to make the most of Fort Wayne Vegan Restaurant Week To Go so you don't miss a thing!
Check Restaurant Hours
There's nothing worse than going to a restaurant, just to find out they're close. OK, there may be a few things that a worse, but when you're hungry for some delicious vegan food, showing up to a restaurant when they're closed is tragic!
Not all participating restaurants are open all week, and a couple of them are only offering their Fort Wayne Vegan Restaurant Week To Go menu at certain hours. Check our website for each restaurant's hours to make sure the restaurant you're heading to is open.
Use the Interactive Restaurant Map
Not sure where a restaurant is? Need to find a participating restaurant near you? We've created a handy Google map with each of the 12 participating restaurants listed so you can easily navigate throughout the city.  You can find the map on the Fort Wayne Vegan Restaurant page or by visiting https://bit.ly/FWVRWmap2020.
Make a Plan
We have 12 participating restaurants and only 7 days. Think it's impossible to fit it all in? Not if you make a plan! Take a look at the menus and hours for each location and decide where and when you want to go. We eat 3 meals a day so there's definitely time to explore each restaurant. Download our week planner template to help you make your game plan so you don't miss anything!
Here's our sample game plan.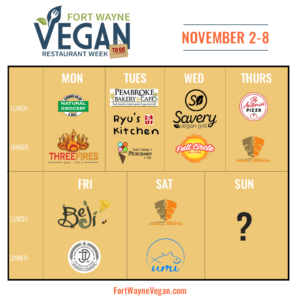 Order Online or Call Ahead
Last year, restaurants participating in Fort Wayne Vegan Restaurant Week To Go were packed! This year, due to the COVID-19 pandemic, some restaurants are limiting indoor seating capacity. To make sure your able to get an order in, phone ahead or order online (if available) and pick up your food to go. On our website, under each restaurant, we've listed phone numbers (click to call on mobile) and websites for online ordering (if available).
The weather is supposed to be great next week, especially towards the middle to end of next week (you're welcome! 🙂 ) so grab some friends and family, order carryout and meet up at a park!
Use our Website
Our website has everything you need to help you make the best out of Fort Wayne Vegan Restaurant Week To Go. You'll find the full list of participating restaurants, addresses, hours, website links, click to call (on mobile), and online ordering links to make ordering carryout easy, and a map to help you explore all of our Vegan Restaurant Week options.
Tag and Follow Us!
Follow us on Facebook to stay up-to-date on all things FW Vegan Restaurant Week. And, don't forget to tag #FWVRW in your posts so we can see how you all are enjoying Fort Wayne Vegan Restaurant Week To Go!