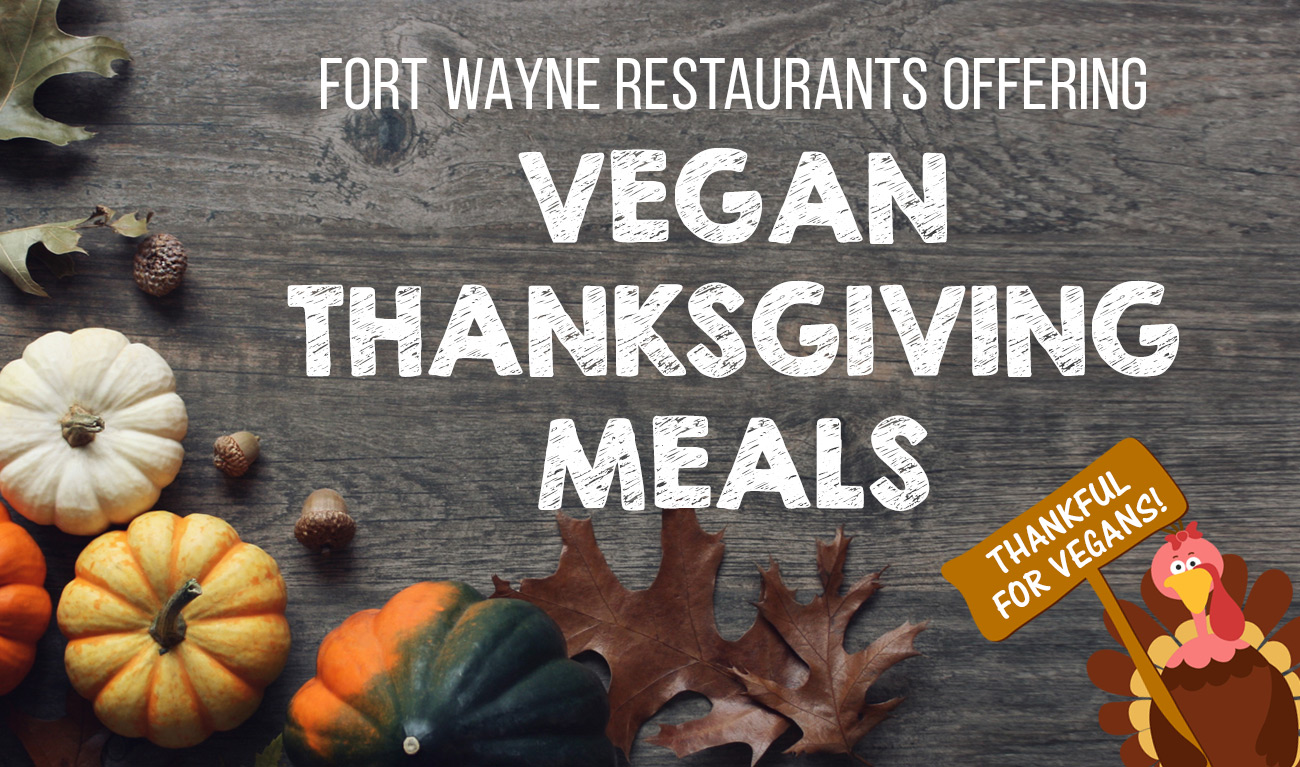 Fort Wayne Restaurants Offer Vegan Thanksgiving To-Go
Thanksgiving is only a few weeks away. This year instead of spending countless hours planning, grocery shopping, cooking, and cleaning, give yourself something to be truly thankful for and let someone else do the cooking! Order from one or all five of these Fort Wayne restaurants offering vegan Thanksgiving carryout options.
Savery Vegan Grill
Savery Vegan Grill is offering heat 'n' serve dinners for 2 or 4. Their vegan Thanksgiving meal includes:
• Turkey casserole
• Garlic Mashed Potatoes
• Bacon Green Beans
• Baked Mac 'N' Cheese
• Dinner Rolls
• Cinnamon Butter
• Turkey Gravy
• Apple Pie
Meals will be available for pickup on Wednesday, November 24th.
Order online on their website. 
Roko's Kitchen
Roko's Kitchen will also be offering vegan heat 'n' serve vegan carryout for Thanksgiving for 6 or individual meals and add-on items. Meals include:
Chickenless Noodles (handmade) with Carrots, Celery, and Peas
Chunky Mashed Potatoes
Gravy
Stuffing
Green Bean Casserole
Buttered Corn
Cranberry Relish
Add-on Vegan Dinner Rolls
Add-on Whole Vegan Pumpkin Pie
Add-on Glazed Pumpkin Hand Pie
Orders are due by Wednesday, November 17th for pickup on Thursday, November 25th between 9 am-12 pm at HT2.
View more info and ordering instructions on their Facebook page. 
Junk Ditch Brewing Company
Junk Ditch's vegan Thanksgiving carryout menu feeds 4-6 people and includes:
Marinated Tofu & Roasted Mushrooms
Mac N Cheese
Roasted Veggies Brussels/Squash
Mashed Potatoes
Gravy
Stuffing
Cranberry Mostarda
Dinner Rolls (6)
Apple Pie
Order a whole meal for 4 to 6 or choose what you want off their a la carte menu which serves 4-6. Place your order by November 21st for pickup on November 25th. Contact Junk Ditch to place your order.
The Sassy Vegan
Want something a little different for Thanksgiving this year? The Sassy Vegan will be offering a Lao Feast for Thanksgiving. Dinner includes:
Spring Rolls
Lahp
Fried Rice
Stir Fry
You can also order Breakfast items including quiche or biscuits & gravy as well as an assortment of pies and desserts.
Pumpkin Pie
Apple Pie
Key Lime Pie
Peanut Butter Explosion Cheesecake
Pumpkin Roll Log
Donuts
Cookies
Orders are due by November 19th for pickup on November 23 or 24th at the Cookspring Shared Kitchen on Rudisill Blvd. Place your order on their website.
Health Food Shoppe
The Health Food Shoppe is offering Thanksgiving individual meals or purchase sides or dessert only. Their vegan Thanksgiving meal includes:
"Turky" Cutlet with Gravy
Your Choice of 2 Sides
Pie
or order a la cart items:
Smashed Potatoes
Roasted Brussels
Roasted Vegetables
Mushroom Gravy
Cranberry Sauce
1/2 Stuffed Squash
Cranberry and Pecan Stuffing (specify vegan) (full pan serves 8-10)
Desserts include:
Chocolate Pecan Pie
Dutch Apple Pie
Silky Chocolate Pie
PB Cup Pie
Pumpkin Roll
They start taking orders on Wednesday, November 8. All items are vegan and gluten-free except for the stuffing which will need to be specified as vegan when ordering. Call 483-5211 to place your order.
Vegan Thanksgiving
These Fort Wayne restaurants make it easy to keep the turkey off your plate and enjoy a delicious vegan Thanksgiving meal without the work. This year, your Thanksgiving meal is only a call or a click away!