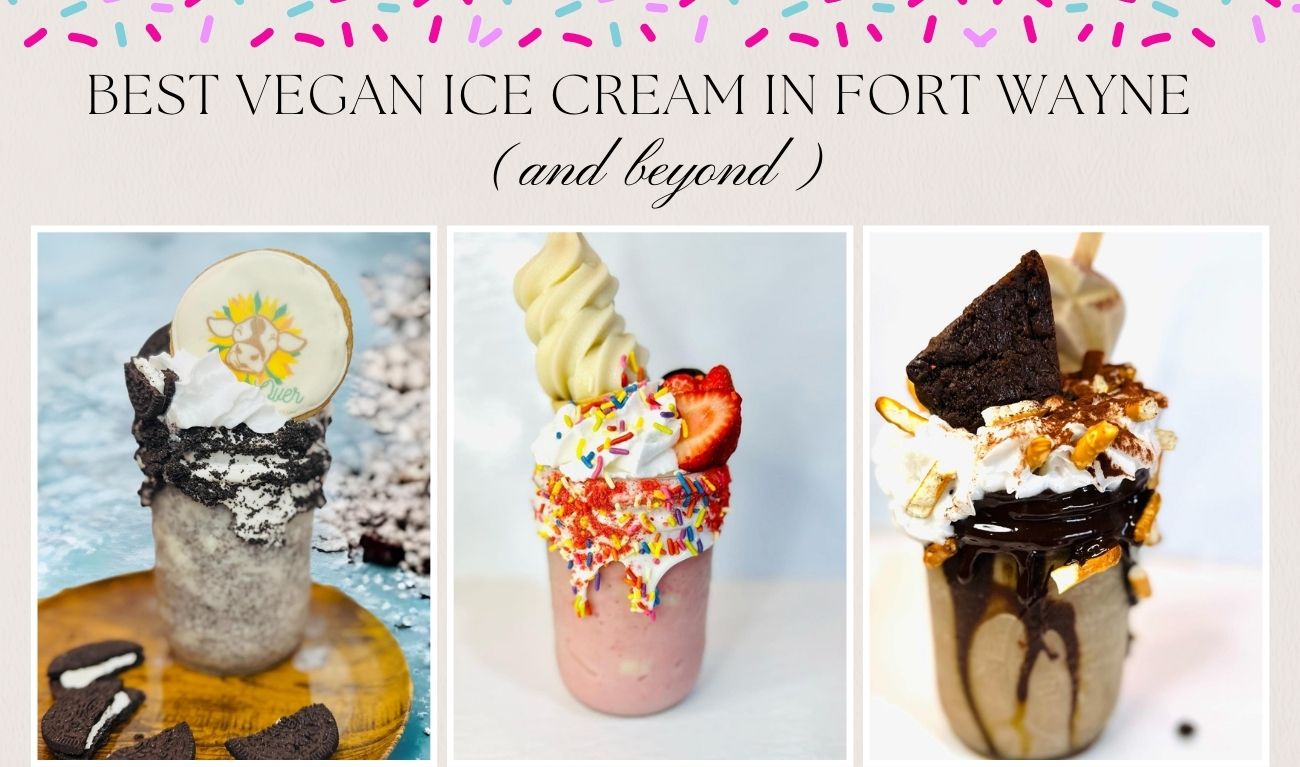 Celebrate National Ice Cream Day with Vegan Ice Cream in Fort Wayne
(pictures courtesy of Moo-Over)
Cue the sprinkles and loosen that belt — it's National Ice Cream Day! But hold the dairy — the Fort Wayne, Indiana area is rewriting the rulebook on this beloved sweet treat. Celebration the day with a kinder, greener, and dare we say, tastier side: vegan ice cream. Time to let those dairy-laden delights moo-ve over and celebrate National Ice Cream Day with a healthier, more compassionate scoop.
Where can you celebrate with vegan ice cream in Fort Wayne and around the area? Check out our top five places to get vegan ice cream in (and around) Fort Wayne.
Moo-over: Udderly Amazing Vegan Ice Cream
While not technically in Fort Wayne, we couldn't make this list without starting with the area's ONLY all-vegan ice cream shop and bakery.
In the heart of Columbia City, a short drive from Fort Wayne, you'll discover a little slice of plant-based paradise – Moo-over. This hotspot is proof that you don't need a cow to make superb ice cream. Hard, soft serve, shakes, and epic "tumbleweed" sundaes — every creation is dairy-free and as delicious as they are a feast for the eyes..
But wait, there's more! Moo-over is not just a vegan ice cream haven; it's an all-vegan and gluten-free bakery too. So whether you're an ice cream aficionado or a baked goods connoisseur, this is one stop you won't want to skip.At Moo-Over, vegan indulgence is taken to a whole new level! Moo-ve over, dairy ice cream, there's a kinder, more compassionate ice cream in town!
Brooklyn Pints
Brooklyn Pints in West Central is known for their fun varieties of ice cream like Mango Tajin and they always have at least six vegan ice cream flavors on rotation. That means you can try a new flavor every visit and always have a fresh experience. And if you're a fan of shakes, Brooklyn Pints will not disappoint – they can whip up a delectable vegan shake with your choice of flavor.
Visit their Facebook page for their current selection.
Oh Five Scoop Shop
If you are more inclined toward the fruity delights of sorbet or the silky decadence of gelato, the Oh Five Scoop Shop is your place. Their non-dairy sorbets and gelatos are a sensory delight, and their vegan brownies and toppings will take your treat to the next level.
Just Cream Ice Cream Boutique
Navigating the world of dairy-free can be a rocky road, but Just Cream on Dupont Road makes it oh-so-smooth! With a plethora of soy-based vegan ice cream flavors, they're dishing out confirmation that a creamy, dreamy treat doesn't need a drop of dairy.
And they don't just stop at scoops; they've got non-dairy milk too. That means your favorite ice cream can morph into a thick, luscious shake that's all kinds of amazing.
The Stand
The Stand in Waynedale is where soft serve gets a plant-based twist, transforming into a rich, creamy treat that's pure joy in a cone or sundae, or other dairy-free treat! Feel like going the extra mile? Try a "wipeout" piled high with everything from Oreos to Swedish Fish.
But the fun doesn't stop with soft serve. The Stand whips up shakes with almond milk, custom-topped with everything from strawberries to chai tea. And let's not forget their vegan sundaes, root beer floats, and the unique Boston Cooler – a mix of ginger ale and vanilla soft serve.
View the vegan section of their menu to check out their vegan options.
(They list Fruity Pebbles as a vegan option, however, it contains Vitamin D derived from sheep's wool.)
Other Local Licks
And don't forget, the wider Fort Wayne area is bursting with spots offering vegan delights. Even the unexpected locales may offer a vegan flavor or two, like Dole Whips at Zestos, Silk Chocolate Almondmilk scoops and shakes, and non-dairy Dilly Bars at Dairy Queen.
Now that you're in the scoop about the top five spots to score vegan ice cream in Fort Wayne (and beyond), it's time to celebrate National Ice Cream Day with an array of compassionate, cruelty-free, and mouthwatering options!