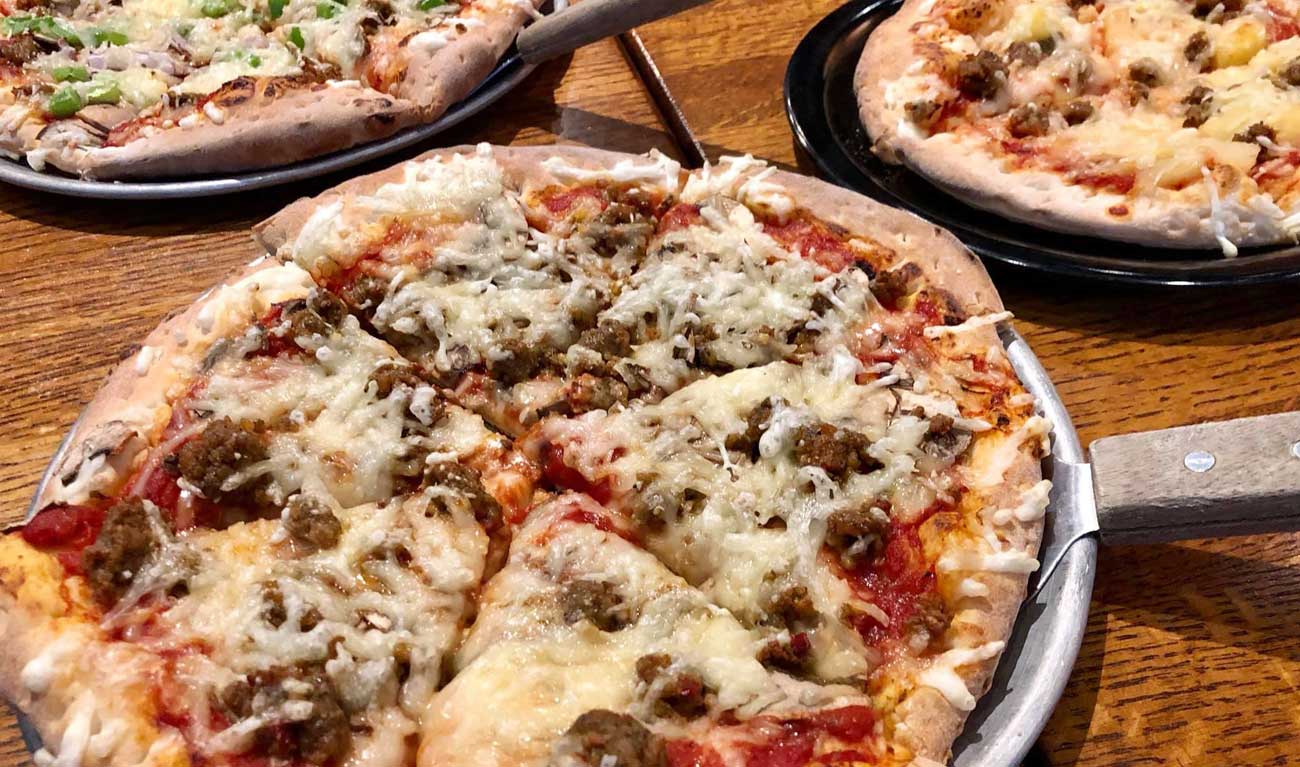 Best Vegan Pizza in Fort Wayne
If you search google for "best vegan pizza in Fort Wayne", you may only see a couple of options listed. But, pizza lovers needn't fret, Fort Wayne actually has several great local spots (and a national chain restaurant) to grab a pie when the pizza craving hits.
From vegan taco pizza to "sausage" or "chorizo", check out our list of the best vegan pizza in Fort Wayne.
Three Fires Pizza
Looking for something a little different? Head to Three Fires Pizza on Illinois Road. Veganize one of their on menu pizzas or choose one of their specialty vegan pizzas like their best-selling Vegan 800 — a vegan (or vegan gluten-free) crust topped with pizza sauce, cauliflower "sausage", roasted red peppers, dollops of creamy vegan ricotta, chili flakes, chili oil, and vegan cheese. Spice wimps beware, the pizza is pretty spicy but can be tamed down by leaving off the chili flakes and chili oil. Although the cauliflower still adds a bit of heat. Or try the Thai pizza loaded with Thai peanut cauliflower, mung bean sprouts, red bell peppers, carrots, toasted peanuts, carrots, jalapenos, cilantro, Thail peanut sauce, sweet chili sauce, and vegan mozzarella.
Head to Three Fires on Sunday for Vegan Pizza Sundays where you'll find one of my favorites, the Vegan Taco Pizza which includes black beans, "cauliflower" taco crumbles, cilantro, "sour cream", crushed tortilla chips, tomatoes, and vegan cheese.
All vegan options or items menu items that can be prepared vegan are clearly marked on their menu.
And, be sure to use your Fort Wayne Vegan Savings Card to save 15% off your vegan order!
Three Fires Pizza, 5215 Illinois Rd. Suite 101, (260) 416-0005
B. Antonio's
B. Antonio's, a newcomer to the vegan pizza scene in Fort Wayne, is quickly becoming a favorite. Grab a vegan pizza topped with veggies and/or your choice of vegan protein, either "sausage" or "burger" crumbles then finish it off with some vegan cheese.
And, make sure to order some of the softest, most delicious, mouthwatering breadsticks you've ever tasted with a side of marinara or garlic butter. Yes, their garlic butter is vegan!
B. Antonios, 10011 Lima Road, (260) 490-9222 or 5417 Meijer Drive, (260) 485-2400
Blaze Pizza
The only national chain restaurant on our list is Blaze Pizza. Both their house-made high-rise and gluten-free doughs are vegan. Load it up with veggies, pineapple, vegan chorizo, and vegan cheese then finish it off with one fo their drizzles. Their bbq sauce, buffalo sauce, and Frank's Red Hot Drizzle are all vegan.
The best part? When ordering, let them know that you're vegan and that you'd like them to change their gloves before starting on your order. When they pull your pizza out of the oven, be sure to ask them to use their special vegan utensils (green handles) to handle and slice your pizza. No more worrying about cross-contamination!
Blaze Pizza, 401 Coliseum Blvd East, (260) 440-8571
816 Pint & Slice
Head to the downtown pizza hot spot, 816 Pint & Slice, to grab a pint and a pie. While unfortunately, they don't sell their vegan pizzas by the slice, if you don't want to order a whole pizza, you can order a calzone which is basically like a large slice of folded pizza! Fill it with your favorite veggies and vegan cheese.
Their breadsticks and garlic butter are vegan as well.
816 Pint & Slice, 816 S Calhoun St., (260) 423-6600
Alto Grado
If you were at the Fort Wayne Veg'n Brew Fest a couple of years ago, chances are you already know about Alto Grado and have had a chance to try their delicious vegan pizzas.
At Alto Grado, their crust and sauces are vegan and they even have a couple of vegan-themed pizzas. The Happy Vegan is piled high with artichoke hearts, mushrooms, kalamata olives, and non-dairy cheese.
Mushroom lovers will love the Fun Guy, a vegan pizza loaded with baby bella mushrooms and non-dairy cheese. Or try the Yukon Gold pizza topped with chopped garlic, gold potatoes, rosemary, olive oil, sea salt, and finished with truffle oil. Two vegan favorites, pizza and potatoes… this one is a must-try!
Alto Grado has recently expanded its menu to include fresh-baked vegan artisan bread including sourdough, Italian loaves, and focaccia with many topping options.
You can currently find Alto Grado at the Parkview Field Farmer's Market on Saturdays from 9-1 pm. They're also working on opening a brick & mortar location on the Landing and will be expanding the restaurant's menu to include a variety of vegan & vegetarian salads and sandwiches or you can veganize many of their on menu pizzas.
And, don't forget dessert! Cinnamon toast meets elephant ear in the delicious Cinna-munch stix, stretched pizza dough topped with olive oil then coated with cinnamon sugar and cut into sticks.

Check their menu for wood-fired fruit pizza!
Alto Grado, Coming October 2020 to 111 W. Columbia St. Also at Parkview Field Farmer's Market on Saturdays 9-1
Vegan Pizza in Fort Wayne
Whether you're vegan, dairy-free, or just want to try something different, check out any of these spots for some of the best vegan pizza in Fort Wayne.